Email Marketing Tools: 7 Most Recommended Ones
February 14, 2022
2022-06-09 17:58
Email Marketing Tools: 7 Most Recommended Ones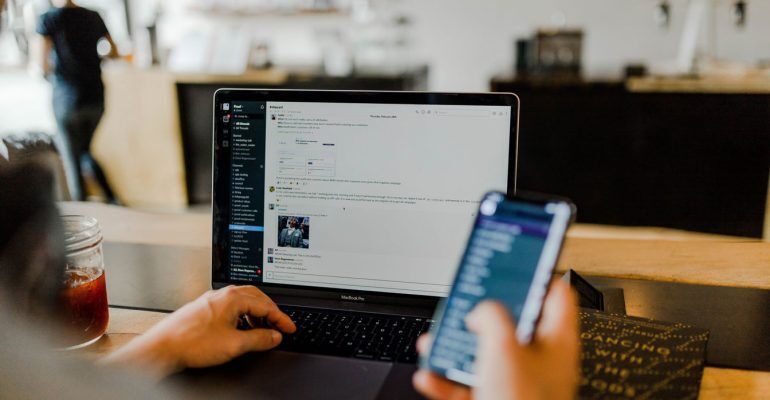 Email Marketing Tools: 7 Most Recommended Ones
Want to enhance the quality of your emails? Without investing more time and resources?
Well, Email marketing tools let you do exactly that. Using them, you can enhance the quality of your emails without investing more time and effort.
Numerous email marketing tools exist in the market. In this blog, we share a list of the 7 most recommended ones. We (Digital Asia Community) discuss the features, pricing and reviews of each.
Here's a list of 7 most recommended email marketing tools
Features
This tool is a part of the Hubspot Marketing Hub. It offers the following features:
Templates: You can choose an email template and edit it for your campaign needs.
Personalisation: The tool automatically writes personalised email subjects. Personalisation is based on each individual's data such as their name and location.
Scheduling: Schedule the date and time for sending emails. The tool sends them for you.
A/B testing: You can A/B test your mails to see which one works best.
Email automation: The tool offers the opportunity to send emails in bulk while optimizing it according to the recipient's device.
It uses the consumer data you feed into the Hubspot CRM platform for email marketing management.
Pricing
Basic features of this tool are free. To combine it with the features of other Hubspot tools, you'll have to consider the pricing chart of Hubspot Marketing Hub.
Reviews
We've collected some reviews of the Hubspot Marketing Hub.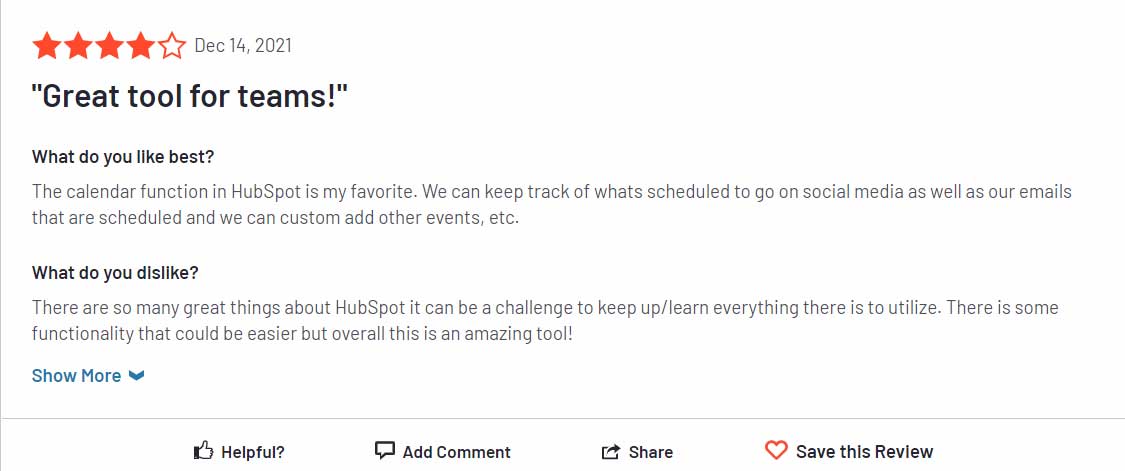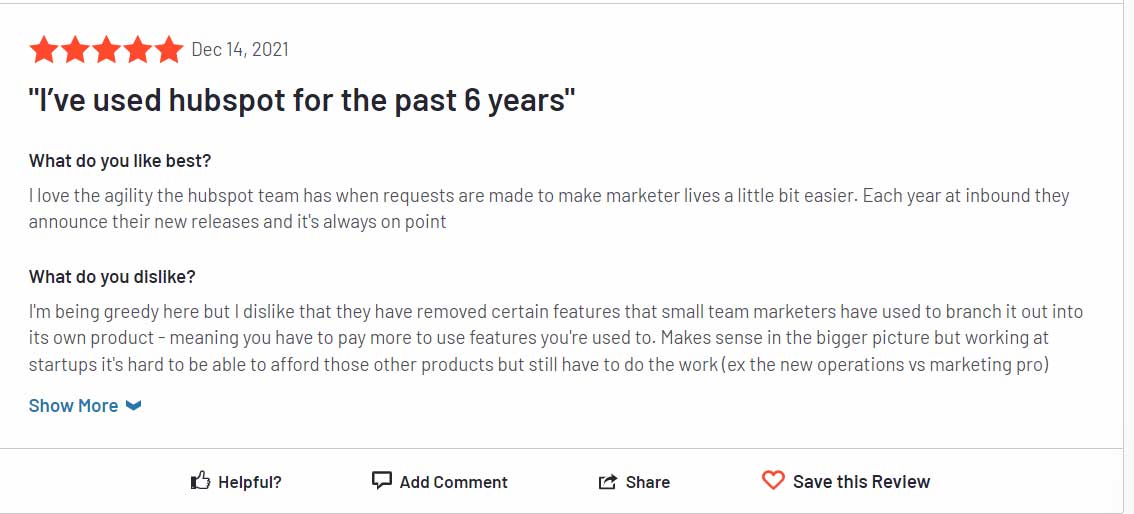 Features
If you're an artist, this tool is specifically made for you.
ConvertKit focuses on satisfying a creator's email marketing needs. It aims to help them sell their work without much technical struggle. It offers the following features:
Helps you create an email template and use it for future projects.
Allows you to add buttons, images or videos to your email.
Prevents your emails from ending up in the spam folder. It enjoys a 98% delivery rate.
Want to build your email list? It allows you to create forms and pop-ups.
Segments your subscriber list into various groups.
Automates email sending.
When you're offering bait like an e-book or a video, Just upload the file. CovertKit manages the rest.
ConvertKit integrates with various websites and apps. Check if it integrates with the one you use.
Pricing
The free plan offers some basic features to start with. Further, there are two paid plans. One for $9/month and the other for $25/month.
Have a look at the complete pricing structure here.
Reviews
Most of the reviews point out its easy interface and great features. You can read more reviews here.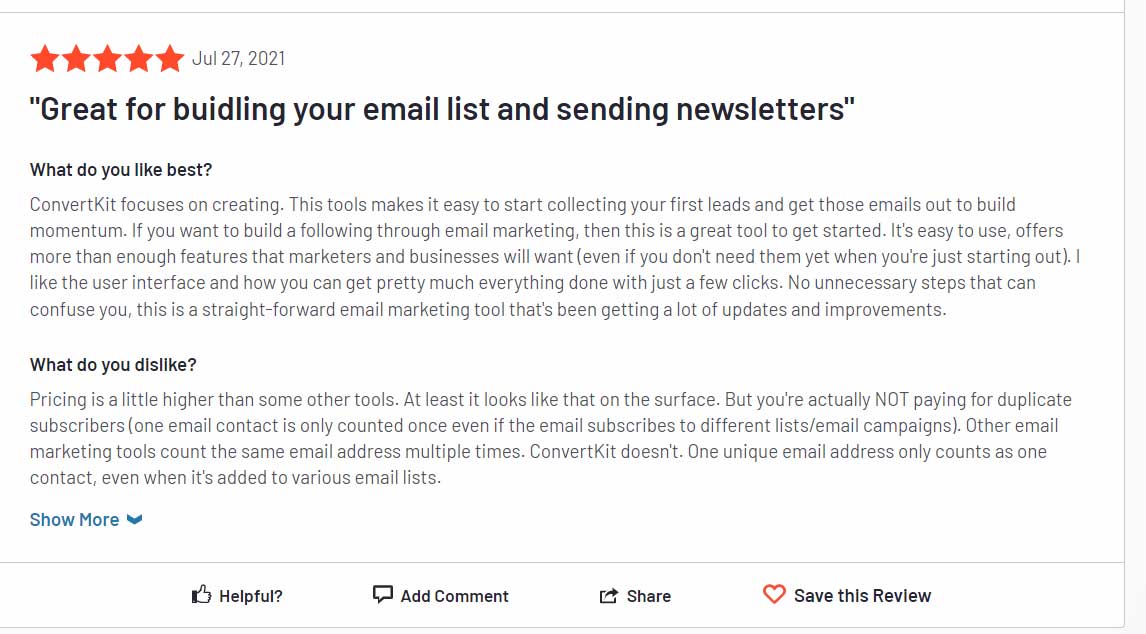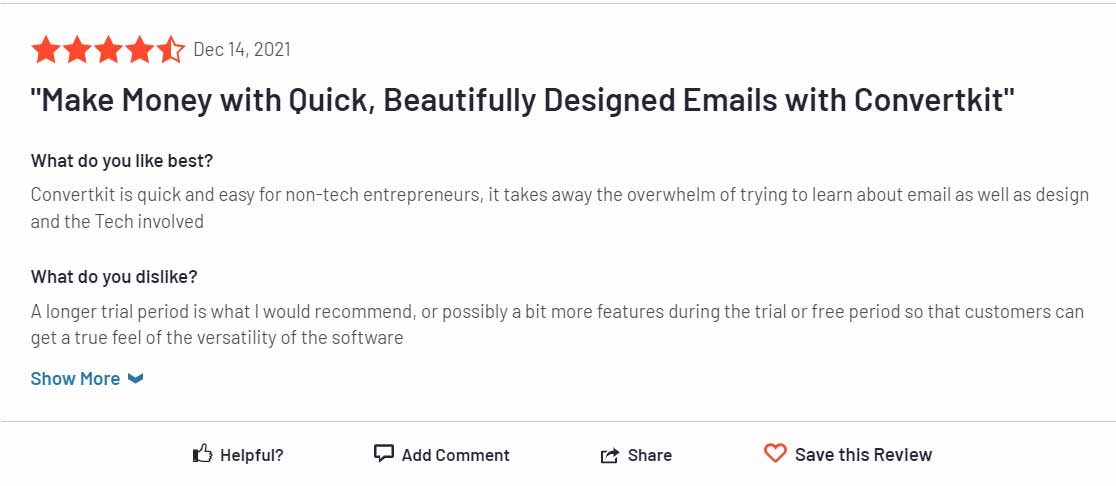 Features
Send-in- blue makes it easier for you to:
Create beautiful emails: It has a great library of email templates.
Improve the customer experience: The tool automates sending transactional and follow-up emails.
Communicate better: It allows you to segment the marketing email list.
Improve personalisation: It automatically adds personalised elements to your email. Such as the receiver's name.
Send the best email at the best time: It A/B tests different emails and then decides the best one. Also, their AI algorithm identifies the best time for sending bulk emails.
Use it on different devices: It works on androids, iPhones, iPad's and is also cloud-based.
Pricing
The free plan allows you to send a maximum of 300 emails per day. As you move to a higher paid plan, more emails and more features are added.
Have a look at the complete pricing plan.
Reviews
We've collected some reviews of the tool. You can read more here: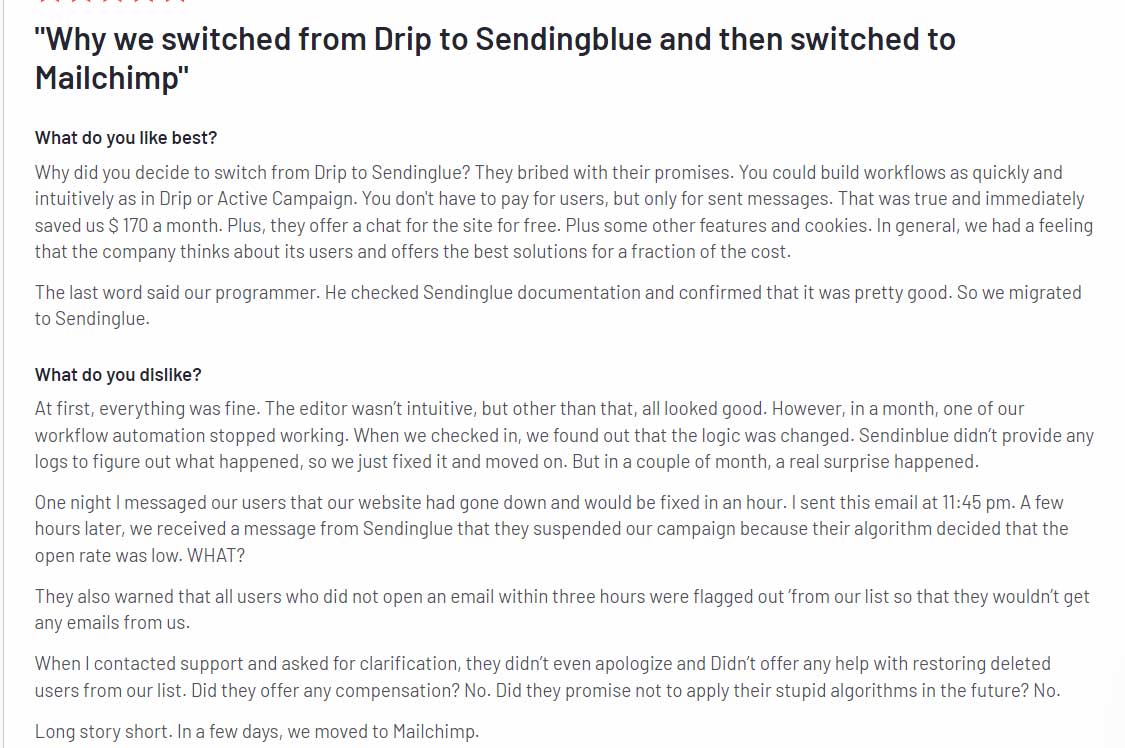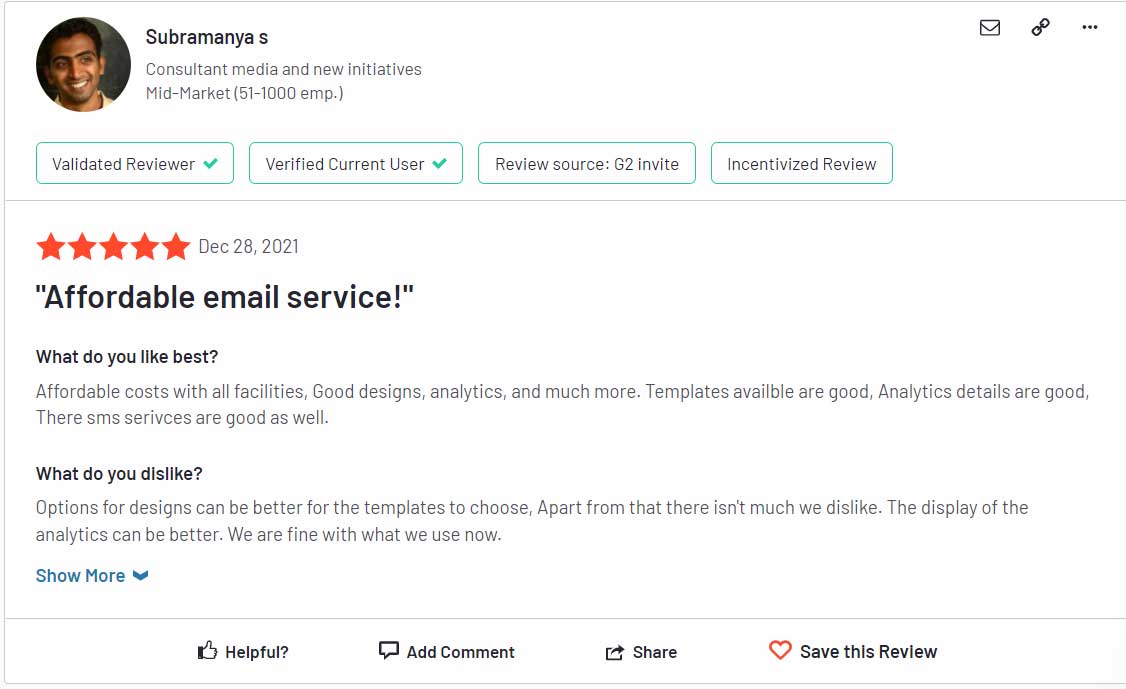 Features
Specialises in e-commerce email marketing automation.
Integrates with various websites like Shopify, Magento, WooCommerce, BigCommerce and Custom Store.
Its email automation sends personalized bulk emails.
Also offers other features like creating forms, pop-ups and SMS marketing.
Pricing
Drip's plans start from $19/ month. It offers a free trial to start with. The cost of your plan depends on the number of active people in your account, number of emails and SMS you send per month.
Reviews
We've selected the two most unbiased reviews. You can read more reviews here.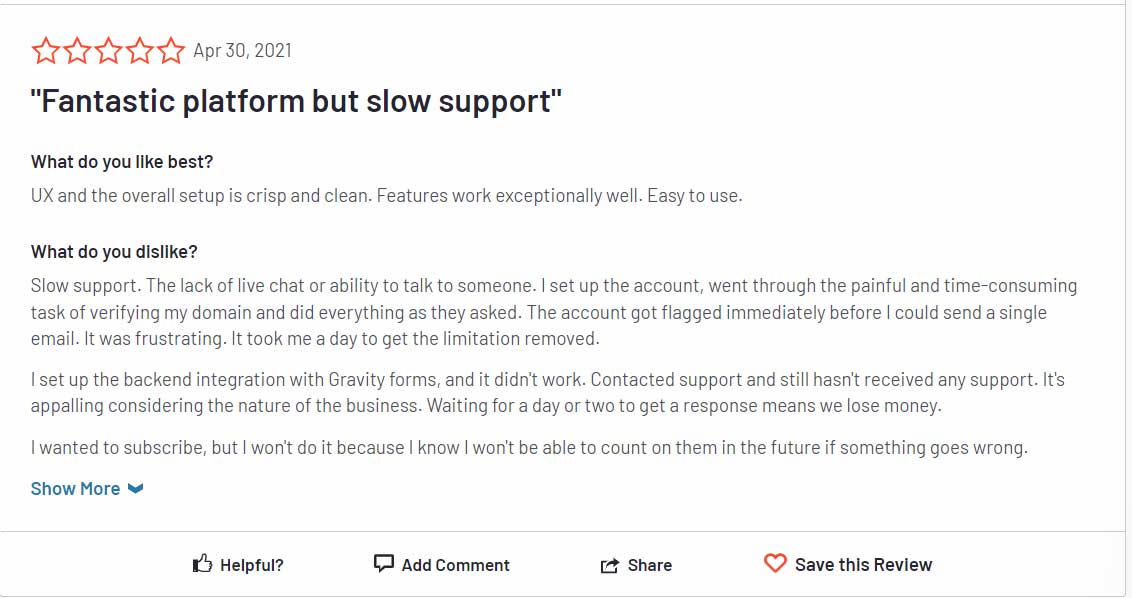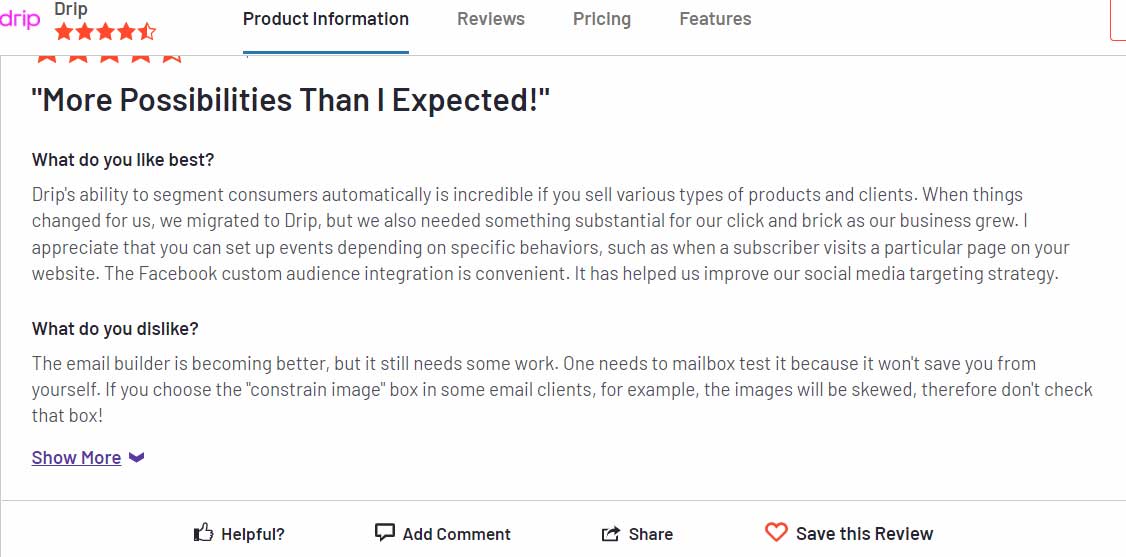 Features
You may choose to get ready-made designs for your brand, use templates or code your own template.
The Subject Line Helper helps you design some clickbait headlines.
Mailchimp automatically sends emails based on customer behaviour.
It also gives you access to email analytics.
You can use the tool as a mobile app.
Mailchimp integrates with various website builders and social media platforms.
It allows you to A/B test different emails.
Pricing
Mailchimp offers a free plan. But it doesn't give access to many of the above-mentioned features.
You can have a look at the complete pricing structure here.
Reviews
A lot of reviews suggest that it's a great tool. But considering other tools available in the market, it's not worth the price. You may read reviews here.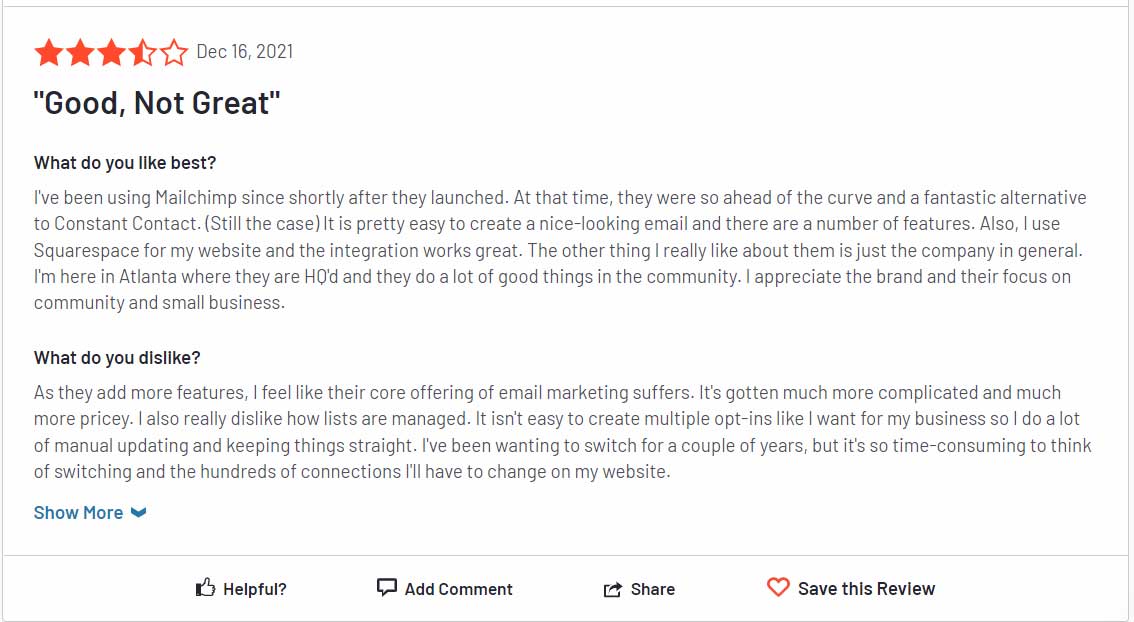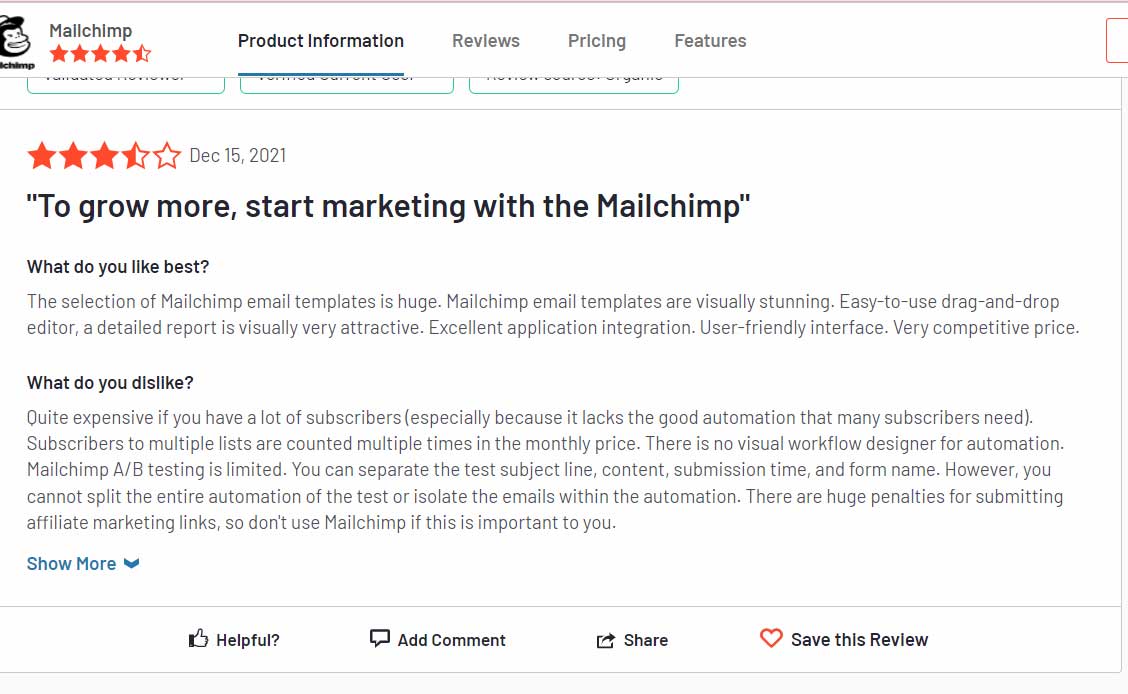 Features
Moosend's personalization isn't restricted to writing personalized email subjects. It goes to the extent that you can send personalized product recommendations and even weather-based recommendations.
The tool has a lot of landing page templates to choose from.
Its powerful analytics help you make well-informed decisions. Moosend shows metrics like open rate, click-through rate, bounces, product views, purchase data, demographics data and event tracking.
Makes it easier to build an email list for marketing. It allows you to design your own opt-in forms.
The tool also offers marketing automation, even in the free plan.
Pricing
Moosend has a unique pricing model. The cost of a particular plan depends upon the number of subscribers or the number of emails sent, whichever is less expensive.
Reviews
Most reviews praise its features and user-friendly interface. However, the same reviews also point to some problems here and there.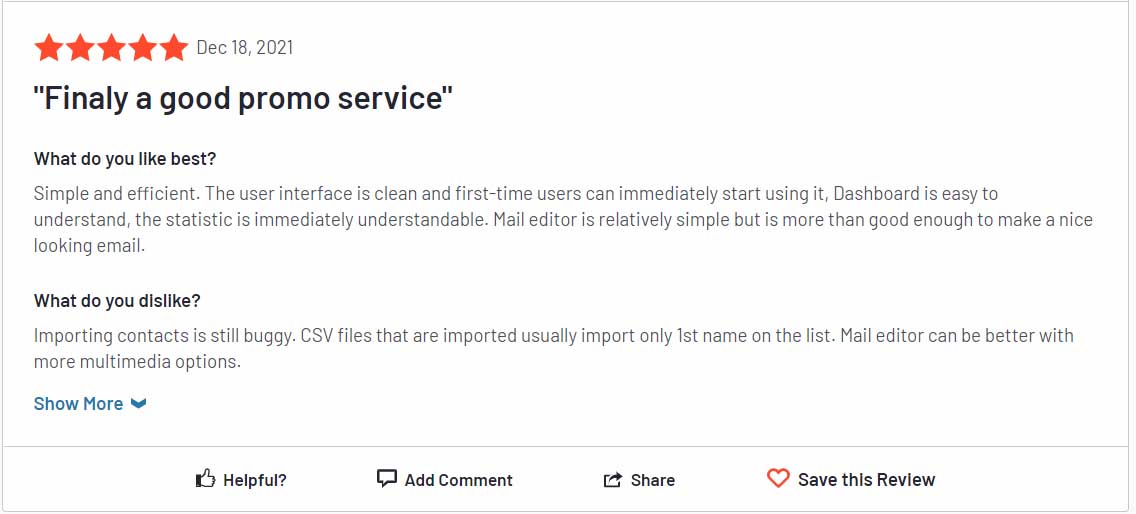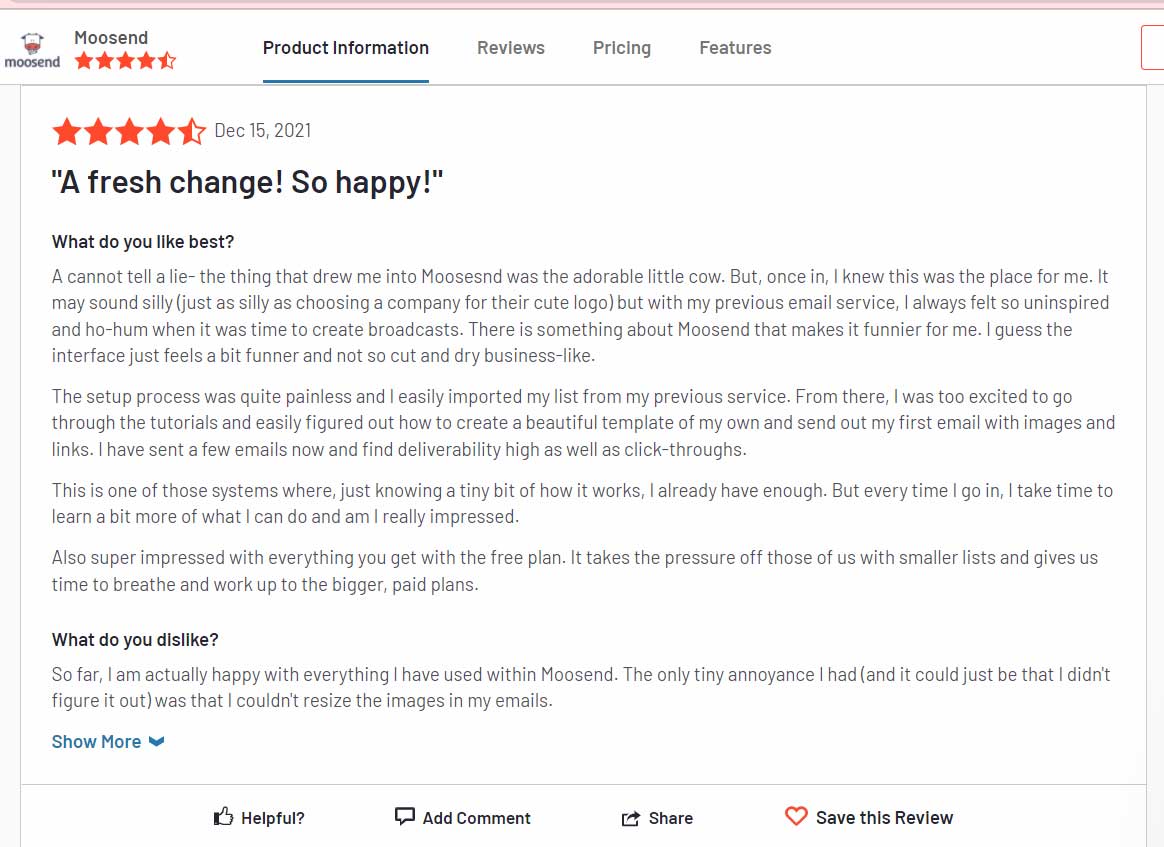 Features
Mailgun offers email API's for a developer's email marketing needs.
It's not for someone with limited technical skills.
It has a powerful sending infrastructure. And flexibility for designing your own email marketing campaigns and designs.
Pricing
Mailgun offers a free and 3 paid plans. The foundation ($35/month), the Growth plan ($80/month) and the Scale Plan at $ 90/month.
Check the complete pricing structure here.
Reviews
Most developers look satisfied with the features and services. However, some reviews also report pricing and interface issues.
You can check more reviews here.
Conclusion
Making a well-informed decision is the best way to invest your earnings.
Even after you go through reviews and pricing, choosing the best email marketing tool might be tough.
Because not one email marketing tool is the best for everyone.
Consider your needs. The features you can compromise and the features you can't. Consider your budget and your team size and then decide on a tool.